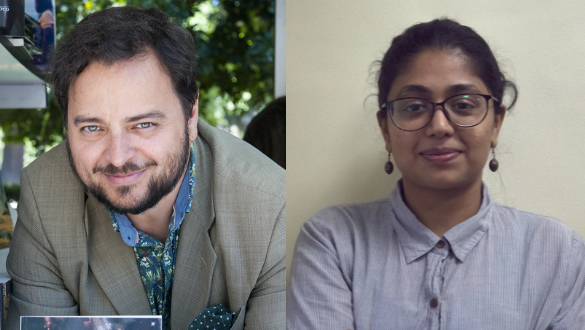 A special conversation between philologist & journalist David Felipe Arranz, and independent researcher Iyesha Geeth Abbas on 19 June, Saturday, 5pm. This is followed by a Q&A session.
David Felipe Arranz is a hispanic philologist, journalist and comparatist. He is a professor of Communications and Journalism at Carlos III University of Madrid and collaborates in various media (newspapers, radio and television). In 2018 his radio program "El Marcapáginas", whose first broadcasts started in 2000, obtained the Silver Antenna from the Madrid Association of Radio and Television Professionals. He has published more than a dozen books on politics, cinema and literature.
Iyesha Geeth Abbas is an independent researcher. She has previously been engaged in research and archiving work at the National Film Archive of India and Films Division among other audio-visual archives. She has also worked on several projects with the Mumbai-based studio CAMP. She has edited a publication for the National Film Archive of India (2018), which will be published shortly. She is currently working on a research publication with historian and archaeologist Virchand Dharamsey on the history of silent cinema in India.
---
In collaboration with